I really hope everyone had a very Happy Valentines Day! I know we sure did! We celebrated it as a family. I am not a person that requires much for Valentines Day... don't buy me the little chocolate boxes (just a simple bag of candy is fine)... don't buy me flowers (they always die)... and I don't need jewelry... I really am a simple girl! It is in the things don't cost money that really show how you feel about someone. Anyone can go to the store and buy something.
I just happened to be at the BX on Valentines Day when most people got off work. (Just an FYI for anyone who is not a Mountain Home local... it is the only store on base.) It was hilarious to see all the men running through the store to purchase their last minute Valentine gifts before they headed home. It made me laugh! :-)
As I promised on Facebook, here is our family Valentines Card!! I loved the way it turned out. I purchased some really cute Valentine Card designs this year to add to my card collections. I just love the new die-cut cards our printer just released!!
*Family Photo taken by, Jamie with Spin Design Photographics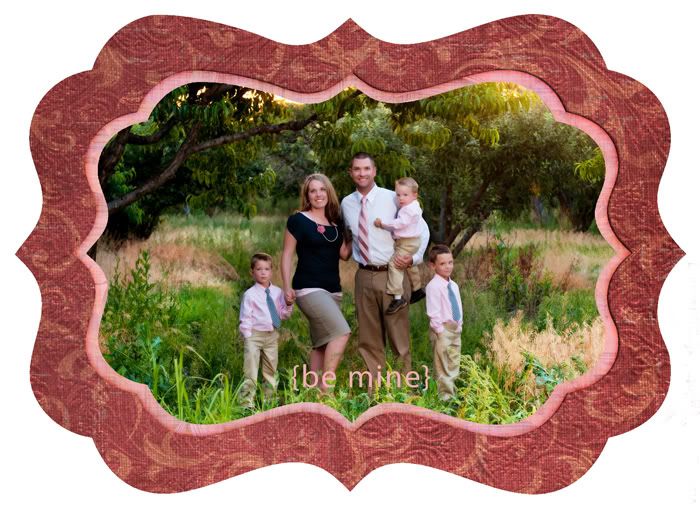 *Photo of boys taken by myself, Brandi Jo Photography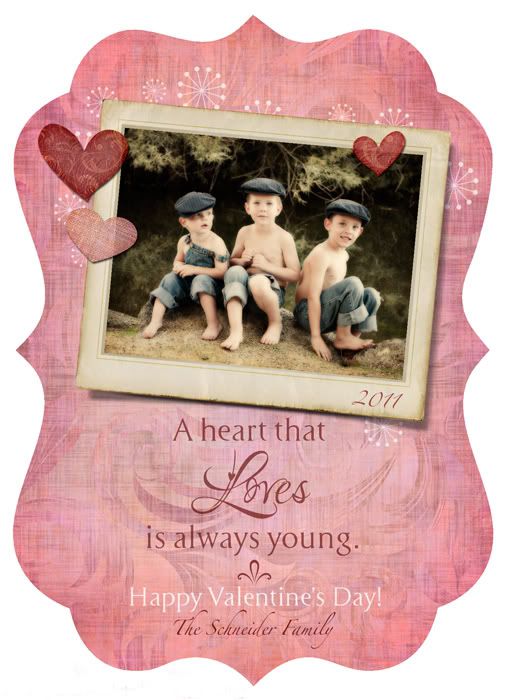 I have decided to make Valentines my BIG card sending holiday. Christmas gets too hectic being a photographer and everything else it represents for families. This is a good time for us!! :-)
______________________________________________________
Mountain Home, Idaho | Boise, Idaho | Glenns Ferry, Idaho | Hammett, Idaho | Phoenix, Arizona | Sun Valley, Idaho | Grandview, Idaho | Bruneau, Idaho | Wedding Photographer | Bridal Photography | Bridal Portraits | Destination Wedding Photographer | Engagement Photography | Couples Photography | Baby Photography | Newborn Photography | Family Photography | Family Photographer | Family Portraits | Senior Photographer | Graduation Photos | Senior Portraits | Child Photographer | Children Photography | Military Family Photographer | Commercial Photographer| Custom Photography | Custom Photographer | Hailey, Idaho | Ketchum, Idaho | Sun Valley, Idaho | Stanley, Idaho | Red Fish Lake, Idaho | Wood River, Idaho | Sawtooth, Idaho | Meridian, Idaho | Kuna, Idaho | Nampa, Idaho | Caldwell, Idaho | Eagle County, Idaho | Elmore County, Idaho | Ada County, Idaho | Camas County, Idaho | Owyhee County, Idaho | Gooding County, Idaho | Blaine County, Idaho | Mountain Home Idaho Photographer